Internal and external design collateral produced for AngelList's careers brand, AngelList Talent.

I led and produced all design work for AngelList Talent's 2019/2020 gifting campaigns. Internal gifting campaign objectives included celebrating the beginning of Q1 and welcoming new employees to the team. External gifting campaign objectives included helping Sales show active clients that we appreciated them and wanted their continued business, giving Acquisitions an excuse to reach out to and book meetings with high-priority prospects, and providing brand marketing with our logo.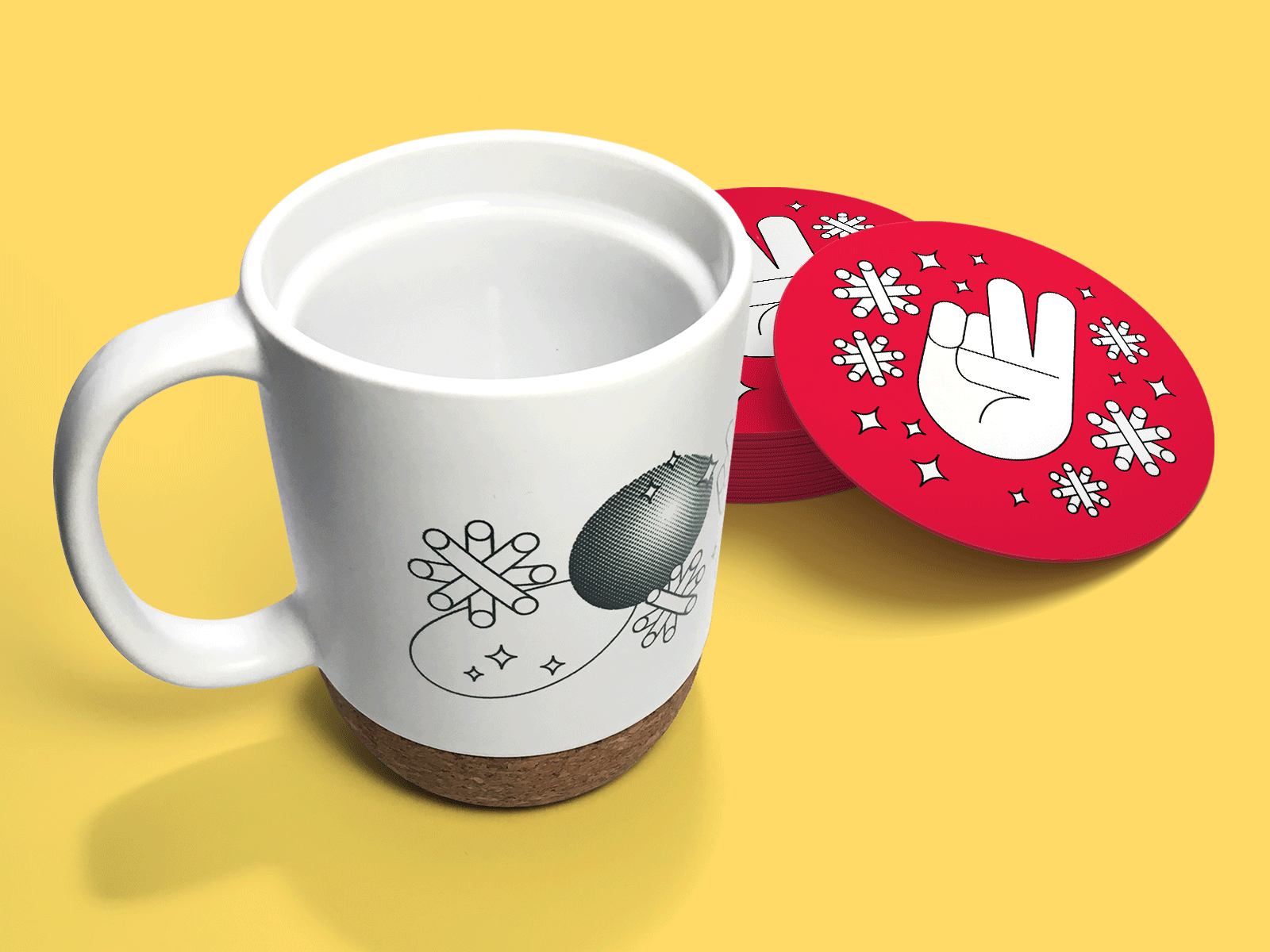 .




Running on Cargo

After a candidate is hired via A-List, AngelList's premium recruitment product, the Candidate Operations team sends them a congratulatory gift of $500 to celebrate their new role and thank them for letting the company help in their job search.

AngelList's old gift experience involved sending a branded water bottle to candidates through USPS and was severely fragmented, very manual, set confusing expectations, and created a large amount of help tickets. One candidate, upon receiving their gift, even described the somber, black package they received as a "coffin" .

As a solution, myself and Creative Director Shane Zucker opted to partner with Tremendous to create an immersive, digital gifting experience for successful A-List candidates. In exchange for a physical package, we created a highly personalized (pulling data to populate each candidate's page with their name, new role, and a personalized message from their recruitment point-person) and conversational redemption platform that added back in the delight and professionalism missing from the black gift box.




Art direction and identity for Paperless Post's spring-entertaining Flyer vibe, Day Tripper.

Paperless Post introduced Flyer in 2018 as a fun, informal alternative to the company's classic cards product. Meant for low-key get-togethers and an internet-savvy crowd, it allows users to mix & match "vibes"—a curated set of colors, gifs, stickers, and animated text effects and share with their friends over a wide range of digital platforms.

Having observed how popular spring-adjacent events such as picnics and rooftop drinks are among their user base, Paperless decided they needed a seasonally cohesive Flyer collection that could be used across a variety of different casual event types.

Day Tripper offers Flyer users a euphoric, bordering on psychedelic, portrayal of spring over traditional motifs like pastels and baby animals. This approach results in a collection that feels modern and highly shareable.

Make your own Flyer using Day Tripper here!
Day Tripper's animated backgrounds are colorful and offbeat with a lot of texture and retro influence. The overall effect is akin to walking outside after a long winter of hibernation and seeing your surroundings suddenly in bright, lush technicolor.

In addition to multiple backgrounds sourced from the public domain, Day Tripper features a set of collaged animations designed with particular event-types in mind. Using collage as a medium in this vibe functions as a way to take wholesome imagery and make it fresh and a little weird.

Two art-directed photographs add an additional layer of polish to the vibe and give users more options for representing cocktail-themed events.



The vibe's color palette is composed of two distinct value systems meant to stand out on Day Tripper's high detail/high-texture backgrounds. A set of over-saturated, bright jewel tones are bold and hint at the vibe's retro edge. A set of light pastels are soft. romantic, understated, and typically spring-y.

Typefaces used in the vibe's animated text effects are either traditional & modern or offbeat and ironic. This allows the user to create both wry and wholesome moments out of the vibe's visual assets, depending on what type of mood the host's event calls for.




As a finishing touch to make Day Tripper's content feel premium and special, I created a custom sprite map typeface for the vibe using old matchbox paintings sourced from the New York Public Library's digital archive. Containing a full glyph set, this typeface has proven to be very popular—most especially as an age callout for users' birthday party invitations.




The winter holidays are Paperless Post's busiest time of the year. These select cards—used throughout the site, for email newsletters, and for various promotional blasts—were part of my contribution to the 2018 holiday push.

Led by the concept of elevating the nostalgia of the holiday season, the campaign features colorful illustrations that lean a little folk, while retaining sophistication in mark-makin and shapes. Textural painted illustrations feel rich and warm with the addition of more complex palettes and linework.

The final collection was a hit with both return and new customers and pushed company profits beyond Q4 goals.














.




Running on Cargo



Book interiors design for Italian theoretical physicist and writer Carlo Rovelli's book, Seven Brief Lessons on Physics. Published by Riverhead Books in 2016, the book has been translated into 41 languages, with more than a million copies sold.

The design's type combination (elegant Adobe Garamond Pro, with modern DIN as a display type), healthy dose of negative space, and open leading give the dense subject-matter room to breathe.

———

"This beautifully designed little book — the swirl of copper dots on its inky black cover evoking seething subatomic particles or a vast swirl of galaxies — shows that science, with its curiosity, its intense engagement with what there really is, its readiness to jettison received ways of seeing, is a kind of poetry too."—Financial Times

"This beautiful little volume playfully introduces its readers to several basic principles of physics in an easy-to-grasp style that will surprise and delight you."—San Francisco Chronicle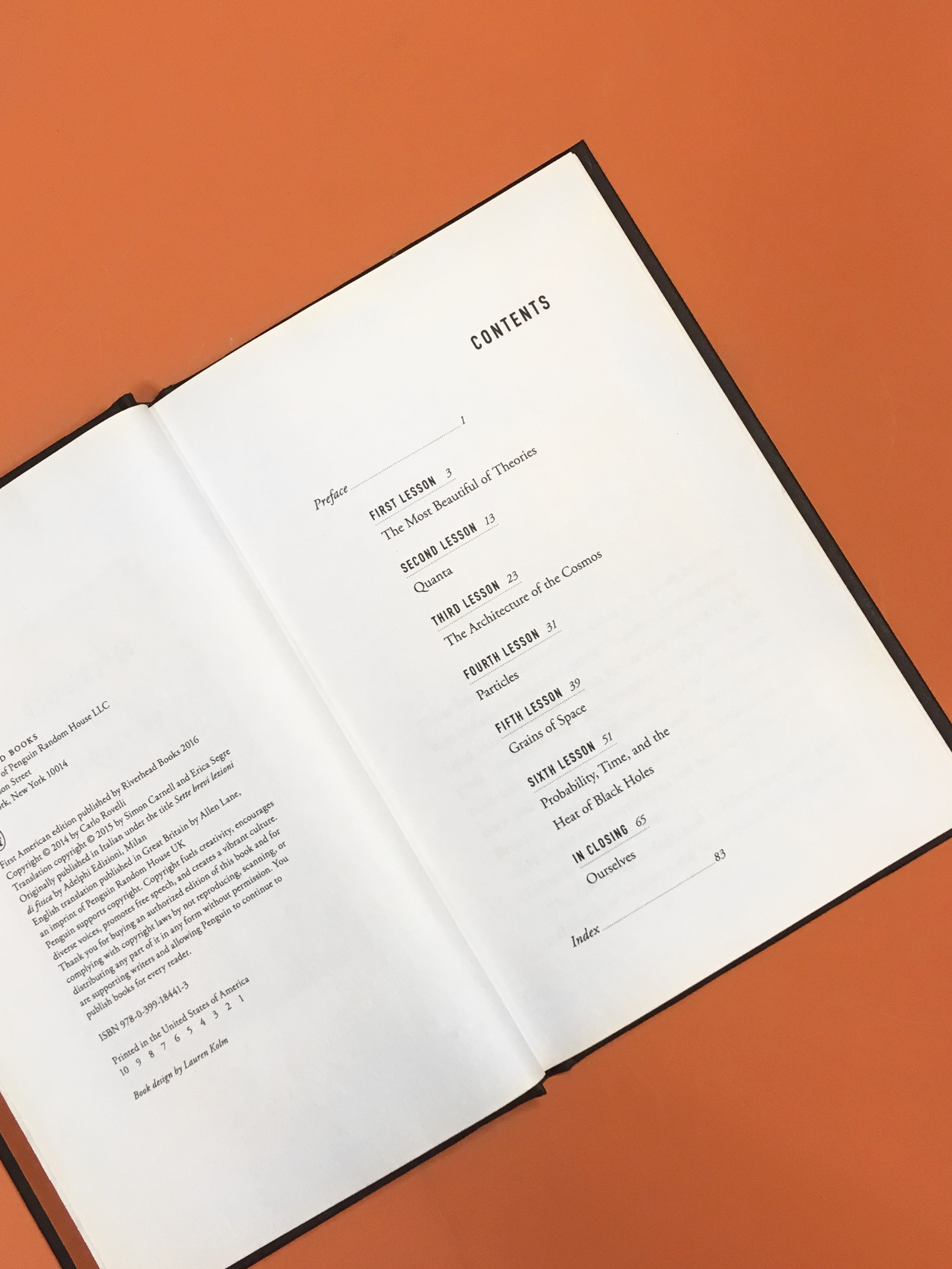 ---
© Lauren Kolm, All Rights Reserved